Arkansas Caregiver Regional Care Listings
Few people are adequately prepared for managing the decisions and stress that accompany planning and providing care for aging family members.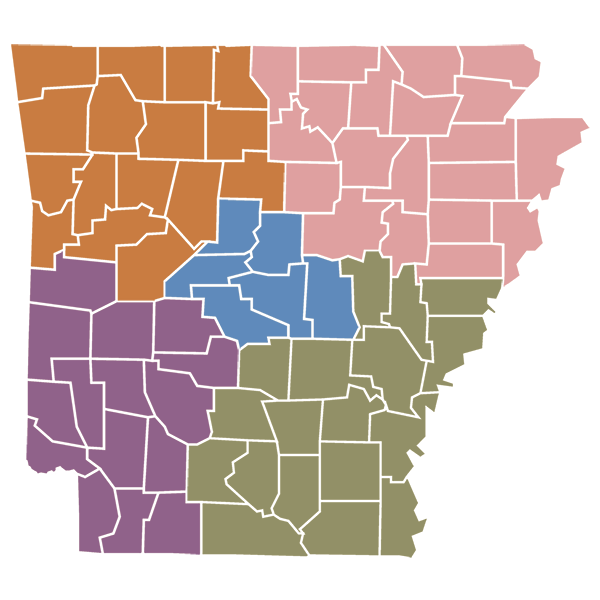 The Arkansas Caregiver Resource Guide provides an essential road map for navigating the process. This resource guide explores the myriad of available care options in Central, Northeast, Northwest, Southeast and Southwest Arkansas, and it covers essential tips on topics ranging from engaging in difficult conversations to fall prevention and memory care.
From Jonesboro to El Dorado, Texarkana to Fayetteville and all points in between, there are care options available in your region.
GUIDE TO TERMS
| | |
| --- | --- |
| ADC | Adult Day Care |
| ASL | Assisted Living |
| COC | Continuing Care |
| DME | Durable Medical Equipment |
| HHC | Home Health Care |
| HSC | Hospice |
| INL | Independent Living |
| MYC | Memory Care |
| OHC | On-site Home Care |
| PHC | Personal Home Care |
| RHB | Rehabilitative Care |
| RES | Residential Care |
| SRV | Service Provider |
| SNF | Skilled Nursing Facility |
* = Services provided statewide
** = Services provided throughout the region
---
Benton
ASL
Four Seasons Assisted Living
2408 Military Road | (501) 778-2838
ASL
Mt. Carmel Community
3505 Boone Road | (501) 315-1555
HHC
Saline Memorial Hospital
1 Medical Park Drive | (501) 847-0613
HOS
Saline Memorial Hospice
23157 I-30 | (501) 315-0136
INL
The Manor Senior Living Community of Benton
4727 Boone Road | (501) 316-4101
MYC
Mt. Carmel Community
3505 Boone Road | (501) 315-1555
MYC
The Manor Senior Living Community of Benton
4727 Boone Road | (501) 316-4101
PHC
Quality Senior Care
17724 Interstate 30, Suite 5 | (501) 778-7000
PHC
SeniorKare**
Regional services | (501) 246-5450
SNF
Alcoa Pines Health & Rehabilitation
3300 Alcoa Road | (501) 315-1700
SNF
Amberwood Health & Rehabilitation
6420 Alcoa Road | (501) 778-5401
SNF
Arkansas Health Center
6701 Hwy. 67 | (501) 860-0500
SNF
Heartland Rehabilitation & Care Center
19701 Interstate 30 | (501) 778-8200
Bryant
ASL
Fox Ridge Estates
4216 Fox Ridge Drive | (501) 847-3400
ASL
Fox Ridge Estates
4216 Fox Ridge Drive | (501) 847-3400
ASL
The Manor Senior Living Community of Benton
4727 Boone Road | (501) 316-4100
INL
Fox Ridge Estates
4216 Fox Ridge Drive | (501) 847-3400
MYC
Fox Ridge Estates
4216 Fox Ridge Drive | (501) 847-3400
MYC
The Manor Senior Living Community of Benton
4727 Boone Road | (501) 316-4100
PHC
Elder Independence
5200 Hwy. 5 N., Suite 5 | (501) 847-6102
PHC
SeniorKare**
Regional services | (501) 246-5450
SNF
Evergreen Living Center at Stagecoach
6907 Hwy. 5 N. | (501) 213-0547
SNF
Southern Trace Rehabilitation & Care Center
22515 Interstate 30 | (501) 847-0777
Cabot
ASL
Crestview Senior Living
3310 W. Main St. | (501) 259-8337
ASL
Southridge Village-Cabot
601 E. Mountain Springs Road | (501) 286-7720
PHC
SeniorKare**
Regional services | (501) 246-5450
RES
Gordon Tubbs Residential Facility
412 Cleveland | (501) 843-6611
RES
Graham's Foster Home for the Elderly
692 Honeysuckle Ln. | (501) 843-5968
SNF
Cabot Health & Rehab
200 Northport Drive | (501) 843-6181
SNF
Greystone Nursing & Rehab
121 Spring Valley Road | (501) 605-1545
SNF
Spring Creek Health & Rehab
804 N. Second St. | (501) 843-3100
Carlisle
SNF
Chambers Skilled Nursing Facility Center
1001 E. Park St. | (870) 552-7150
College Station
SNF
StoneRidge Nursing & Rehabilitation Center
4017 Franklin St. | (501) 490-1533
Conway
ADC
Unity Adult Care Center
223 Locust St. | (501) 327-3014
ASL
Brookdale Conway
1160 Hogan Ln. | (501) 513-4300
ASL
Southridge Village of Conway
1306 S. Donaghey Ave. | (501) 327-3030
ASL
Village Park of Conway
1622 Scott St. | (501) 327-6428
HHC
Absolute Care Management
611 Court St. Suite 1 | (501) 504-2555
HHC
Conway Regional Health System HomeCare
2134 Robinson Ave. | (501) 329-9377
HHC
Diamond Personal Care
25 MacArthur Drive | (501) 358-6180
HHC
Home Bound Medical
1050 Bob Court Way Drive, Suite 107 | (870) 425-2446
HOS
Arkansas Hospice Conway
1105 Deer St., Suite 10 | (501) 328-5400
HOS
Hospice Home Care of Conway
821 North Creek Drive A | (501) 336-9172
HOS
Kindred Hospice II
770 Factory St., Suite 1 | (501) 764-1626
INL
College Square Retirement Community
2421 College Ave. | (501) 327-6227
PHC
Absolute Care Management
611 Court St. Suite 1 | (501) 504-2555
PHC
Diamond Personal Care
25 MacArthur Drive | (501) 358-6180
PHC
Home Bound Medical
1050 Bob Courtway Dr. | (501) 504-2075
PHC
Home Bound Medical
240 Skyline Dr | (870) 425-2446
PHC
Home Instead Senior Care
7 Beaverfork Road | (501) 764-1814
PHC
Home Team Advantage
21 Arnett Ln. | (501) 513-7996
PHC
Independent Living Services
615 E. Robins St. | (501) 327-5234
PHC
SeniorKare**
Regional services | (501) 246-5450
PHC
Superior Senior Care
802 W. Sixth St. | (501) 329-4663
PHC
Superior Senior Care
802 W. Sixth St. | (501) 329-4663
PHC
Unity Adult Care Center
223 Locust St. | (501) 327-3014
PHC
Visiting Angels of Conway
240 Skyline Drive, Suite 301 | (501) 329-2100
SNF
Conway Healthcare & Rehabilitation Center
2603 Dave Ward Drive | (501) 329-2149
SNF
Heritage Living Center
1175 Morningside Drive | (501) 327-7642
SNF
Salem Place Nursing & Rehabilitation Center
2401 Christina Ln. | (501) 327-4421
SNF
St. Andrew's Place
3501 College Ave. | (501) 329-9879
SNF
Superior Health & Rehab
625 Tommy Lewis Drive | (501) 585-6800
England
SNF
Cavalier Healthcare of England
400 Stuttgart Hwy. | (501) 842-2771
Greenbrier
PHC
SeniorKare**
Regional services | (501) 246-5450
SNF
Greenbrier Nursing & Rehabilitation Center
16 Wilson Farm Road | (501) 679-0860
Jacksonville
PHC
Absolute Care Management
15 Crestview Plaza | (501) 241-2630
PHC
SeniorKare**
Regional services | (501) 246-5450
RES
Jacksonville Care Center
1500 Graham Road | (501) 982-5545
SNF
Woodland Hills Healthcare & Rehabilitation of Jacksonville
1320 W. Braden St. | (501) 241-2191
Little Rock
ADC
Millennium Companion
9700 N. Rodney Parham Road, Suite D | (501) 313-2993
ASL
Arkansas Area Agencies on Aging
308 Main St. | (501) 534-3268
ASL
Brookdale at Chenal Heights
1 Chenal Heights Drive | (501) 821-1555
ASL
Fox Ridge of Chenal
23101 Chenal Valley Drive | (501) 482-9200
ASL
Parkway Heights
14328 Chenal Parkway | (501) 202-1638
ASL
Parkway Village
14300 Chenal Parkway | (501) 202-1600
ASL
The Manor Senior Living Community of LR
1401 Labelle Drive | (501) 444-2390
ASL
Woodland Heights
8700 Riley Drive | (501) 224-4242
COC
Arkansas Area Agencies on Aging
308 Main St. | (501) 534-3268
DME
Ivory Senior Care & DME Company
6320 Baseline Road, Suite B | (501) 319-7619
HHC
Senior Livng Solutions
Regional services | (501) 650-3013
HHC
Addus Homecare
9712 Interstate 30, Suite 2 | (501) 565-1679
HHC
Arkansas Area Agencies on Aging
308 Main St. | (501) 534-3268
HHC
Baptist Health Home Health Network - Little Rock
11900 Colonel Glenn, Suite 2000 | (501) 202-7480
HHC
Care IV Home Health
1023 Rushing Circle | (501) 686-2400
HHC
CHI St. Vincent Health at Home
One Executive Center Court, Suite 110 | (501) 664-4933
HHC
Elite Home Health
1515 Merrill Drive, Suite E-100 | (501) 223-3333
HHC
Holistic Home Health Care
3008 W. 12th St. | (501) 366-1148
HHC
Integrity
6124 Northmoor Drive | (501) 406-0442
HHC
Intrepid USA Healthcare Services
300 S. Rodney Parham, Suite 14 | (501) 227-0689
HHC
Kindred at Home
10800 Financial Centre Parkway, Suite 330 | (501) 508-8164
HHC
Kindred at Home I
10825 Financial Centre Parkway, Suite 210 | (501) 223-8310
HOS
Baptist Health Hospice - Little Rock
9601 Baptist Health Drive | (501) 202-2000
HOS
Hospice Home Care
12120 Colonel Glenn Road, Suite 6400 | (501) 296-9043
HOS
Kindred Hospice
10800 Financial Centre Parkway, Suite 380 | (501) 223-8868
HOS
Hospice Home Care
12120 Col Glenn Road, Suite 6400 | (501) 296-9043
HOS
Hospice Home Care
2200 S. Bowman | (501) 221-3338
INL
Andover Place
2601 Andover Court | (501) 712-2275
INL
Brookdale Pleasant Hills
800 Napa Valley Drive | (501) 225-9405
INL
Chenal Pines Retirement Resort
16715 Champagnnolle Drive | (501) 859-6214
INL
Fox Ridge of Chenal
23101 Chenal Valley Drive | (501) 482-9200
INL
Parkway Village
14300 Chenal Parkway | (501) 202-1600
INL
The Magnolias
3601 W. Roosevelt Road | (501) 664-4048
INL
Villas of Chenal
100 Villas Circle | (501) 261-8045
INL
Woodland Heights
8700 Riley Drive | (501) 244-4242
MYC
Avenir Memory Care
8401 Ranch Blvd. | (501) 868-6270
MYC
Brookdale at Chenal Heights
1 Chenal Heights Drive | (501) 821-1555
MYC
Fox Ridge of Chenal
23101 Chenal Valley Drive | (501) 482-9200
MYC
Memory Care of Little Rock at Good Shephard
2501 Aldersgate Road | (501) 260-7407
MYC
Parkway Village
14300 Chenal Parkway | (501) 202-1600
MYC
The Ginny & Bob Shell Alzheimers Center
14322 Chenal Parkway | (501) 202-6105
OHC
Arkansas Area Agencies on Aging
308 Main St. | (501) 534-3268
PHC
A Place at Home
415 N McKinley St., Suite 447 | (501) 214-1911
PHC
Above & Beyond Home Care of Central Arkansas
11015 Arcade Drive, Suite D | (501) 374-2909
PHC
Addus Homecare
9712 Interstate 30, Suite 2 | (501) 565-1679
PHC
Arkansas rea Agencies on Aging
308 Main St. | (501) 534-3268
PHC
BrightStar Care
3800 N. Rodney Parham, Suite 202 | (501) 224-3737
PHC
First Choice Senior Care
13616 Kanis Road | (501) 916-9307
PHC
Home Helpers
8 Shackleford Plaza, Suite 101 | (501) 663-3900
PHC
Home Helpers & Direct Link
8 Shackleford Plaza, Suite 101 | (501) 663-3900
PHC
Home Instead Senior Care
909 Cumberland St. Suite100 | (501) 758-7340
PHC
Independent Case Management
1525 Merrill Drive | (501) 228-0063
PHC
Integrity
6124 Northmoor Drive | (501) 406-0442
PHC
Kindred At Home
10800 Financial Center Parkway | (501) 508-8159
PHC
Millennium Companion
9700 N. Rodney Parham Road Suite B | (501) 414-8698
PHC
Parkway Village
14300 Chenal Parkway | (501) 202-1600
PHC
Right At Home
11324 Arcade Drive Suite18 | (501) 954-7066
PHC
Right At Home
16623 Cantrell Road Suite 1-B | (501) 673-3166
PHC
SeniorKare**
10201 W. Markham, Suite 336 | (501) 246-5450
PHC
Superior Senior Care
900 N. University Ave. Suite 5 | (501) 604-4444
PHC
Synergy Home Care
300 S. Rodney Parham Suite 7 | (501) 313-2811
PHC
Visiting Angels Senior Care
14 Office Park Drive, Suite 102 | (501) 329-2100
RHB
Arkansas Area Agencies on Aging
308 Main St. | (501) 534-3268
RES
Good Shepherd Retirement Center
2701 Aldersgate Road | (501) 224-7200
RES
Presbyterian Village
510 N. Brookside Drive | (501) 225-1615
RES
The Greenbriar on Stagecoach
5201 Stagecoach Road | (501) 568-5633
SRV
Alzheimer's Association*
201 Markham Center Drive | (501) 224-0021
SRV
Arkansas Area Agencies on Aging
600 E. Capitol | (866) 739-7751
SRV
Arkansas Attorney General's Office*
323 Center St., Suite 200 | (501) 682-2007
SRV
Arkansas Department of Human Services*
Donaghy Plaza, P.O. Box 1437 | (501) 682-1001
SRV
Arkansas Health Care Association*
1401 W. Capital, Suite 180 | (501) 374-4422
SRV
Senior Health Insurance Information Program (SHIIP)*
1200 W. Third St. | (501) 371-2600
SRV
WellCare*
Regional services | (800) 960-2530
SNF
Allay Health and Rehab
3115 S. Bowman Road | (501) 228-4848
SNF
Barrow Creek Health and Rehab
2600 Barrow Road | (501) 224-4173
SNF
Briarwood Nursing & Rehabilitation
516 S. Rodney Parham Road | (501) 224-9000
SNF
Colonel Glenn Health & Rehab
13700 David O. Dodd Road | (501) 907-8200
SNF
Cottage Lane Health and Rehab
800 Brookside Drive | (501) 224-3940
SNF
Hickory Heights Health & Rehab
3 Chenal Heights Drive | (501) 830-2273
SNF
Midtown Post Acute & Rehabilitation
5720 W. Markham St. | (501) 664-6200
SNF
Nursing & Rehabilitation Center at Good Shepherd
3001 Aldersgate Road | (501) 217-9774
SNF
Parkway Health Center
14311 Chenal Parkway | (501) 202-1645
SNF
Parkway Village
14300 Chenal Parkway | (501) 202-1600
SNF
Pleasant Valley Nursing and Rehabilitation
12111 Hinson Road | (501) 225-8888
SNF
Presbyterian Village
510 N. Brookside Drive | (501) 225-1615
SNF
The Green House Cottages of Poplar Grove
7801 Kanis Road | (501) 404-0500
SNF
The Village at Valley Ranch
6411 Valley Ranch Drive | (501) 868-8857
SNF
The Waters of Cumberland
1516 Cumberland St. | (501) 374-7565
SNF
The Waters of West Dixon
2821 W. Dixon Road | (501) 888-4200
SNF
The Waters of Woodland Hills
8701 Riley Drive | (501) 224-2700
PHC
SeniorKare**
10201 W. Markham, Suite 336 | (501) 246-5450
Lonoke
SNF
Barnes Healthcare
1010 Barnes St. | (501) 676-3700
SNF
Lonoke Health & Rehab Center
1501 Lincoln St. | (501) 676-2600
Maumelle
ASL
Elmcroft of Maumelle
100 Bringler Drive | (501) 483-5761
ASL
Stonehaven Assisted Living
101 Olympia Drive | (501) 443-7145
PHC
SeniorKare**
Regional services | (501) 246-5450
SNF
The Lakes at Maumelle Health and Rehabilitation
103 Alexandria Drive | (501) 734-1400
Morrilton
HHC
Area Agency on Aging of West Arkansas Central Arkansas
810 E. Harding St. | (501) 354-0484
HHC
CHI St. Vincent Health at Home
211 Helicopter Ln. | (501) 354-6262
PHC
SeniorKare**
Regional services | (501) 246-5450
SNF
Brookridge Cove Rehabilitation and Care Center
1000 Brookridge Ln. | (501) 354-4585
SNF
River Chase Rehabilitation & Care Center
12 Hospital Drive | (501) 354-4647
North Little Rock
ADC
We Care Adult Day Care Center
603 Cotton Road | (501) 955-3853
ASL
Fox Ridge at Parkstone
17 Parkstone Circle, Suite 17 | (501) 801-9705
HHC
CareLink
706 W. Fourth St. | (501) 372-5300
HHC
Kindred At Home
1 Riverfront Plaza | (501) 508-8157
HOS
Arkansas Hospice
14 Parkstone Circle | (501) 748-3333
INL
Audubon Pointe
100 Audubon Drive | (501) 851-1821
INL
Fox Ridge at Parkstone
17 Parkstone Circle, Suite 17 | (501) 801-9705
INL
Parkstone Place Retirement Center
1 Parkstone Circle | (501) 771-1228
MYC
Fox Ridge at Parkstone
17 Parkstone Circle, Suite 17 | (501) 801-9705
PHC
CareLink
706 W. Fourth St. | (501) 372-5300
PHC
Home Instead Senior Care
3809 McCain Park Drive, Suite 100 | (501) 758-7340
PHC
Kindred At Home
1 Riverfront Plaza | (501) 508-8157
PHC
SeniorKare**
Regional services | (501) 246-5450
PHC
Wright by Your Side In-Home Care
5305 McClanahan Drive Suite E2 | (501) 712-5142
SNF
Arkansas State Veterans Home at North Little Rock
2401 John Ashley Drive | (501) 683-2382
SNF
Lakewood Health & Rehab
2323 McCain Blvd. | (501) 791-2323
SNF
Premier Health & Rehabilitation Center
3600 Richards Road | (501) 955-2108
SNF
Robinson Nursing & Rehabilitation Center
519 Donovan Briley Blvd. | (501) 753-9003
SNF
Somerset Senior Living at Premier
3600 Richards Road | (501) 955-2108
SNF
The Waters of North Little Rock
2501 John Ashley Drive | (501) 758-3800
Perryville
SNF
Perry County Nursing & Rehabilitation Center
1321 Scenic Drive | (501) 889-2400
Sheridan
HHC
Assisted Care for Seniors
314 S. Oak St. | (870) 942-4700
Sherwood
ADC
Seniors Serving Seniors Adult Day Care
3170 E. Kiehl Ave. Suite A | (501) 313-0985
ASL
Elmcroft of Sherwood
9880 Brockington Road | (501) 835-6000
ASL
Retirement Center of Arkansas
8900 Hwy. 107 | (501) 835-5931
PHC
Grace At Home Senior Care
801 E. Kiehl Ave | (501) 835-4663
PHC
Lonnie's Dream, In-Home Care
1610 E. Kiehl Ave., Suite B | (501) 392-6639
PHC
SeniorKare**
Regional services | (501) 246-5450
PHC
Seniors Serving Seniors
3170 E. Kiehl Ave. Suite A | (501) 313-0985
SRV
Delta Dental of Arkansas*
1513 Country Club Road | (501) 834-9960
SNF
Sherwood Nursing & Rehabilitation Center
245 Indian Bay Drive | (501) 834-9960
---
Ash Flat
SNF
Ash Flat Healthcare & Rehabilitation Center
66 Ozbirn Ln. | (870) 994-2341
SNF
Eaglecrest Nursing & Rehab
916 Hwy. 62/412 | (870) 994-3040
Batesville
ASL
Eagle Mountain Assisted Living
302 Woodmont Circle | (870) 612-8700
HHC
Amedisys Home Health
2236 Harrison St. | (870) 793-1483
HHC
Approve Home Medical Services
2000 E. Harrison St., Suite E | (870) 698-1123
HHC
White River Area Agency On Aging
3998 Harrison St. | (870) 612-3000
HOS
Arkansas Hospice
3000 Jennings Ln., Suite C | (870) 793-1938
HOS
Caring Hands Hospice
2000 Harrison St., Suite E | (870) 698-1123
HOS
Kindred Hospice I
1141 E. Main St., Suite 208 | (870) 376-5571
PHC
Approve Home Medical Services
2000 E. Harrison St., Suite E | (870) 698-1123
PHC
Community Best Care
400 Harrison St., Suite 204 | (870) 569-8082
PHC
SeniorKare**
Regional services | (501) 246-5450
PHC
Superior Senior Care
2035 Harrison St. | (870) 793-3644
PHC
White River Area Agency On Aging
3998 Harrison St. | (870) 612-3000
SNF
Batesville Health & Rehabilitation
1975 White Drive | (870) 376-0346
SNF
Mountain Meadows Health & Rehabilitation
1680 Batesville Blvd. | (870) 251-1112
SNF
Wood-Lawn Heights
2800 Neeley St. | (870) 793-7195
ASL
Woodcrest Assisted Living
2901 Neeley St. | (870) 793-5819
Beebe
SNF
Beebe Retirement Center
709 McAfee Ln. | (501) 882-3313
Blytheville
ASL
Stonebridge of Blytheville
1401 E. Moultrie Drive | (870) 838-0033
HHC
East Arkansas Area Agency on Aging - Mississippi County
1101 David Ln. | (870) 763-2278
HHC
Home Health Professionals
509 Hutson St. | (870) 762-1825
INL
Westminster Village of the Mid South
5215 Southside Drive | (870) 532-6696
PHC
All Care Home Care
415 Chickasawba, Suite 6 | (870) 280-2523
PHC
East Arkansas Area Agency on Aging**
1101 David Ln. | (870) 467-3278
PHC
Loving Arms Staffing Agency
545 N. 10th St. | (870) 824-2973
SNF
Heritage Square Nursing & Rehabilitation Center
710 N. Ruddle Road | (870) 763-3654
Brinkley
PHC
Kindred At Home
409 W. Fourth St. | (870) 527-2186
Calico Rock
HHC
North Arkansas Homecare
54 Grasse St. | (870) 297-3738
SNF
White River Healthcare
1569 Arkansas Hwy. 56 | (870) 297-3719
Cave City
SNF
Cave City Skilled Nursing Facility
442 Taylor Circle | (870) 283-5313
Corning
SNF
Corning Therapy & Living Center
831 N. Missouri Ave. | (870) 857-3100
Cotter
HHC
Baxter County Home Health
30 Ryan Road | (870) 435-7500
England
ASL
Cavalier Healthcare
400 Stuttgart Highway | (870) 573-8118
Forrest City
ASL
Crestpark Retirement Inn
500 Kittle Road | (870) 633-4260
ASL
St. Francis Assisted Living
1800 Stephens Drive | (870) 633-6390
HHC
East Arkansas Area Agency on Aging
602 E. Cross Ave. | (870) 633-2248
HHC
Elite Home Health
4200 N. Washington St., Suite 1 | (870) 261-0188
HHC
Kindred at Home
925 N. Washington St. | (870) 270-5461
HHC
Medical Technology
101 N. Rosser St. | (870) 633-5176
HOS
Kindred Hospice I
915 N. Washington St. Suite B1 | (870) 270-5461
HOS
Patient's Choice Hospice
4200 N. Washington St. Suite 2 | (870) 663-4613
PHC
AllCare Homecare
101 S. Washington St. | (870) 280-2523
PHC
East Arkansas Area Agency on Aging**
602 E. Cross | (870) 467-3278
PHC
Elite Home Health
4200 N. Washington St., Suite 1 | (870) 261-0188
PHC
Forrest Hills Residential Care
1803 Lindaeur Road | (870) 494-3911
PHC
Golden's Adult Day Care
320 N. Rosser St. | (870) 494-3999
PHC
Kindred At Home
915 N. Washington St. | (870) 270-5461
PHC
SeniorKare**
Regional services | (501) 246-5450
PHC
Silver Lining Senior Care
410 Cleveland St. | (870) 630-8180
PHC
Superior Senior Care
2321 N. Washington St. | (870) 630-9351
RES
Forrest Hills Residential Care Facility
1803 Lindaeur Road | (870) 494-3911
SNF
Crestpark Forrest City
500 Kittle Road | (870) 633-4260
Gassville
PHC
Elite Senior Care North Arkansas
6289 Hwy. 62 West | (870) 435-2123
SNF
Gassville Therapy & Living
203 Cotter Road | (870) 435-2588
Gosnell
SNF
Gosnell Health & Rehab
700 Moody St. | (870) 532-5550
Hardy
HHC
Heartland Home Care
205 E. Main
PHC
Heartland Home Care
205 E. Main St. | (870) 243-3395
Harrisburg
PHC
East Arkansas Area Agency on Aging**
(800) 467-3278
SNF
Woodbriar Skilled Nursing Facility
204 Catherine St. | (870) 578-2483
Heber Springs
ASL
Southridge Village Retirement Center
401 Southridge Parkway | (501) 362-3185
HHC
Baptist Health Home Health
1709 W. Main St. | (501) 206-0025
HHC
White River Area Agency On Aging
1024 Wilburn Road | (501) 362-8615
PHC
SeniorKare**
Regional services | (501) 246-5450
SRV
AllCare Pharmacy
600 W. Main St. | (501) 302-6010
SNF
Seven Springs Rehabilitation & Health Center
1040 Wedding Ford Road | (501) 362-8137
SNF
Somerset Senior Living at Seven Springs
1040 Wedding Ford Road | (501) 362-8137
SNF
Southridge Village Nursing & Rehab
400 Southridge Parkway | (501) 362-3185
Highland
HHC
Community Home Health
2315 Hwy. 62/412 | (870) 856-2671
PHC
Above & Beyond Home Care - Highland
2852B Hwy. 62/412 | (870) 856-3030
Hoxie
HHC
East Arkansas Area Agency on Aging-Lawrence County
500 SW Lawrence St. | (870) 886-2460
PHC
East Arkansas Area Agency on Aging**
500 SW Lawrence | (870) 467-3278
Jonesboro
ASL
Morningside of Jonesboro
4210 S. Caraway Road | (870) 974-9700
ASL
St. Bernards Villa
2217 W. Parker Road | (870) 207-6200
ASL
St. Bernards Village
1606 Heern Drive | (870) 932-8141
HHC
Southern Home Healthcare
2925 S. Caraway Road | (870) 932-0990
HHC
East Arkansas Area Agency on Aging
2005 E. Highland Drive | (800) 467-3278
HHC
East Arkansas Area Agency on Aging**
2005 E. Highland Drive | (870) 467-3278
HHC
Elite Home Health
3024 Red Wolf Blvd., Suite 6 | (870) 520-6034
HHC
Extended Family Enterprises
2710 Phillips Drive | (870) 932-7463
HHC
Heartland Home Care
1817 Woodsprings | (870) 206-2802
HHC
Home Health Professionals & Hospice
2222 Spence Circle | (870) 932-7630
HHC
St. Bernards Home Care
1726 Marie Circle | (870) 972-4502
HOS
Arkansas Home Hospice Providers
3024 Red Wolf Blvd. | (870) 277-4029
HOS
Home Health Professionals & Hospice
2222 Spence Circle | (870) 932-7630
HOS
Lester Dierksen Memorial Hospice
2504 Alexander Drive | (870) 932-2880
HOS
St. Bernards Medical Center Hospice
1726 Marie Circle | (870) 972-4507
INL
South Wind Heights
2305 Bernard St. | (870) 565-9743
INL
St. Bernards Village
1606 Heern Drive | (870) 932-8141
PHC
Absolute Care Management
1315 Stone St. | (870) 336-7615
PHC
Absolute Care Management (corporate office)
1316 Stone St. | (870) 935-3737
PHC
Allcare Homecare
521 Southwest Drive | (870) 933-2273
PHC
East Arkansas Area Agency on Aging
2005 E. Highland Drive | (870) 930-2237
PHC
East Arkansas Area Agency on Aging**
2005 E. Highland Drive | (870) 467-3278
PHC
Home Instead Senior Care
2000 E. Matthews Ave. | (870) 933-6247
PHC
SeniorKare**
Regional services | (501) 246-5450
PHC
St. Bernards Village
1606 Heern Drive | (870) 932-8141
PHC
Superior Senior Care
710 S. Main St. | (870) 935-7707
RES
St. Bernards Village
1606 Heern Drive | (870) 932-8141
SNF
Craighead Nursing Center
5101 Harrisburg Road | (870) 933-4535
SNF
Jonesboro Health & Rehab
1705 LaTourette Drive | (870) 935-7550
SNF
Lexington Place Healthcare
2911 Browns Ln. | (870) 935-8330
SNF
Ridgecrest Health & Rehabilitation
5504 E. Johnson Ave. | (870) 932-3271
SNF
St. Elizabeth's Place
3010 Middlefield Drive | (870) 802-0090
ASL
Liberty Park Senior Living
3024 Red Wolf Blvd. | (870) 206-9604
MYC
Liberty Park Senior Living
3024 Red Wolf Blvd. | (870) 206-9604
Judsonia
SNF
Oakdale Nursing Facility
101 Cynthia St. | (501) 729-3823
Lake City
PHC
East Arkansas Area Agency on Aging**
(800) 467-3278
SNF
Lakeside Health & Rehab
1207 Willow Run Road | (870) 237-8151
Manila
PHC
East Arkansas Area Agency on Aging**
(800) 467-3270
PHC
Elite Senior Care
434 W. State Hwy. 18 Bypass | (870) 570-0340
SNF
Manila Nursing & Rehabilitation Center
814 N. Davis St. | (870) 561-3342
Marianna
PHC
East Arkansas Area Agency on Aging**
(800) 467-3278
Marion
HOS
Lester Dierksen Memorial Hospice
303 Bancario Road, Suite 1 | (870) 559-4052
HOS
St. Bernards Medical Center Hospice
1231 Hwy. 77, Suite 2 | (870) 735-2824
PHC
East Arkansas Area Agency on Aging**
(800) 467-3278
PHC
Home Helpers & Direct Link of Northeast Arkansas
504 Apperson Drive | (870) 559-2898
SNF
Willowbend Nursing & Rehabilitation
101 Brougham Ave. | (870) 739-3268
Marked Tree
PHC
East Arkansas Area Agency on Aging**
(800) 467-3278
PHC
Absolute Care Management
38 Frisco St. | (870) 358-1222
PHC
Caring Hearts Home Care Provider
107 Nathan St. | (870) 358-3344
SNF
Three Rivers Healthcare & Rehabilitation
33904 Hwy. 63 E. | (870) 358-2432
McCrory
HHC
Intrepid USA Healthcare Services
109 Ninth St., Building 1 | (870) 731-5441
HHC
White River Area Agency On Aging
103 W. Raney St. | (877) 482-2353
RES
John Davis Woodruff Center Residential Care
139 W. Hwy. 64 | (870) 731-2528
SNF
Woodruff County Health Center
139 W. Hwy. 64 | (870) 731-2543
Melbourne
HHC
Kindred at Home
14 Arnold Springs Road, Suite C | (870) 368-3472
HHC
White River Area Agency On Aging, Izard County
674 E. Main St. | (870) 368-3256
PHC
Kindred At Home
14 Arnold Springs Road, Suite C | (870) 368-3472
PHC
Ozark Adult Personal Care
1234 E. Main St., Suite A | (870) 368-4419
SNF
Pioneer Therapy & Living
1506 E. Main St. | (870) 368-4377
Monette
PHC
East Arkansas Area Agency on Aging**
(800) 467-3278
SNF
Monette Manor
669 Hwy. 139 N. | (870) 486-5419
Mountain Home
ASL
Elmcroft of Mountain Home
715 W. Sixth St. | (870) 416-3128
ASL
Good Samaritan Society - Mountain Home
300 Good Samaritan Drive | (870) 425-2494
ASL
River Lodge Assisted Living
117 River Lodge Drive | (870) 607-0902
HHC
Southern Home Healthcare
1058 Highland Circle, Suite 12 | (870) 424-4454
HHC
Home Bound Medical
358 Hwy. 5 N. | (870) 425-2446
HOS
Hospice of North Arkansas
330 Hwy. 5 N., Suite 20 | (870) 424-4000
HOS
Hospice of the Ozarks
811 Burnett Drive | (870) 508-1771
PHC
Baxter Retirement Village
550 W. Sixth St. | (870) 424-3599
PHC
Gracon (Homebound Medical)
358 Hwy. 5 N. | (870) 425-2446
PHC
Home Instead Senior Care
124 Hwy. 201 N. | (870) 425-0700
PHC
River Lodge Assisted Living
117 River Lodge Drive | (870) 607-0902
PHC
SeniorKare**
Regional services | (501) 246-5450
PHC
Superior Senior Care
624 Hwy. 62 East | (870) 508-4819
SRV
AllCare Pharmacy
400 S. College St. | (870) 425-5145
SNF
Care Manor Nursing & Rehab
804 Burnett Drive | (870) 424-5030
SNF
Good Samaritan Society - Mountain Home
300 Good Samaritan Drive | (870) 425-2494
SNF
Hiram Shaddox Geriatric Center
620 Hospital Drive | (870) 425-6203
SNF
Pine Lane Therapy & Living
1100 Pine Tree Ln. | (870) 425-6316
Mountain View
ASL
Mountain View Residential Home - A Waters Community
414 Massey Ave. | (870) 269-5845
HHC
Amedisys Home Health of Mountain View
609 Sylamore Ave. | (877) 683-2993
HHC
White River Area Agency On Aging
204 Heritage Drive, Suite A | (870) 269-3807
PHC
All Care Home Care
202 N. Peabody | (870) 281-2273
PHC
SeniorKare**
Regional services | (501) 246-5450
RES
Mountain View Residential Home - A Waters Community
414 Massey Ave. | (870) 269-5845
SNF
The Waters of Mountain View
706 Oak Grove St. | (870) 269-5835
Newport
HHC
Unity Health Home Care of Newport
2000 McLain St. | (870) 523-0390
HHC
White River Area Agency On Aging
1200 Hwy. 367 N. | (870) 523-4982
SNF
St. Michael's Place
1311 N. Pecan St. | (870) 523-9514
SNF
The Waters of Newport
326 Lindley Ln. | (870) 523-6539
Osceola
HOS
Legacy Hospice
925 W. Keiser | (870) 563-9995
PHC
Absolute Care Management
2985 W. Keiser Ave. | (870) 563-2000
PHC
East Arkansas Area Agency on Aging**
(800) 467-3278
Paragould
ASL
Chateau on the Ridge
2308 Chateau Blvd. | (870) 215-6300
HHC
Arkansas Methodist Medical Center Home Health Care
900 W. Kings Hwy. | (870) 239-7152
HHC
East Arkansas Area Agency on Aging - Greene County
120 W. Highland | (870) 236-3903
HHC
Heartland Home Care
2200 Grecian Ln., Suite 1 | (870) 520-5064
HHC
Kindred at Home
200 N. Second St. | (870) 586-5095
PHC
Arkansas Methodist Medical Center
900 W. Kings Hwy. | (870) 239-7152
PHC
East Arkansas Area Agency on Aging**
120 W. Highland | (800) 467-3278
PHC
Elite Senior Care
100 N. Rockingchair Road | (870) 240-0559
PHC
Heartland Home Care
2200 Grecian Ln., Suite 1 | (870) 573-8118
PHC
Kindred At Home
200 N. Second St. | (870) 586-5095
PHC
SeniorKare**
Regional services | (501) 246-5450
PHC
Sunshine Manor Retirement Home
3001 Linwood Drive | (870) 236-3446
SNF
Greene Acres Skilled Nursing Facility
2402 Country Club Road | (870) 236-8771
SNF
The Green House Cottages of Belle Meade
2200 Chateau Blvd. | (870) 236-7104
Piggott
ASL
Magnolia Manor Assisted Living
1200 Gordon Duckworth Drive | (870) 598-2190
HHC
East Arkansas Area Agency on Aging - Clay County
215 N. Second St. | (870) 598-2939
HHC
Piggott Community Hospital Home Health Care
1206 Gordon Duckworth Drive | (870) 598-3133
PHC
East Arkansas Area Agency on Aging**
215 N. Second St. | (800) 467-3278
SNF
General Baptist Skilled Nursing Facility of Piggott
450 S. Ninth Ave. | (870) 598-2291
Pocahontas
ASL
Stonebridge of Pocahontas
311 Camp Road | (870) 892-8556
HHC
Five Rivers Medical Center Home Health
304 W. Marr | (870) 892-6070
PHC
1st Advantage Home Care
2103 Old County Road | (870) 609-1930
PHC
Above & Beyond Home Care
204 N. Thomasville | (870) 609-1906
PHC
East Arkansas AAA
1320 Dalton St. | (800) 467-3278
PHC
East Arkansas Area Agency on Aging**
1320 Dalton | (800) 467-3278
PHC
National Staffing Group
118 N. Bettis St., Suite F | (888) 599-5659
PHC
Preferred Home Care of Arkansas
2655 Thomasville | (870) 248-1031
PHC
The Doni Martin Center for Developmental Services
1506 N. Park St. | (870) 892-4061
PHC
Walk With Us Home Care
1704 Hwy. 67 N. | (870) 202-2532
SNF
Pocahontas Healthcare & Rehabilitation Center
105 Country Club Road | (870) 892-2523
SNF
Randolph County Skilled Nursing Facility
500 Camp Road | (870) 892-5214
Proctor
PHC
E & D Personal Home Care
2951 Waverly Road | (901) 262-6043
Rector
PHC
East Arkansas Area Agency on Aging**
(800) 467-3278
SNF
Rector Nursing & Rehab
1023 Hwy. 119 | (870) 595-1040
Salem
HHC
North Arkansas Homecare
111 N. Main St., Suite 1 | (870) 895-8005
HHC
Spring River Home Health Agency
121 S. Pickren St. | (870) 895-2627
HHC
White River Area Agency On Aging
334 N. Main St. | (877) 895-4034
HOS
Legacy Hospice of North Arkansas
106 W. Locust, Suite 1 | (877) 652-6167
HOS
Visiting Nurses Agency of Western Arkansas
106 W. Locust, Suite 1 | (877) 652-6167
PHC
North Arkansas Homecare
111 N. Main St., Suite 1 | (870) 895-8005
PHC
Spring River Home Health Agency
121 S. Pickren St. | (870) 895-2627
SNF
Southfork River Therapy & Living
624 Hwy. 62/412 W. | (870) 895-3817
Searcy
ASL
Providence Assisted Living
3014 E. Moore Ave. | (501) 268-4169
HHC
Amedisys Home Health of Searcy
404 Llama Drive | (501) 268-2292
HHC
Unity Health - White County Medical Center Home Care
3214 E. Race Ave. | (501) 268-6121
HHC
White River Area Agency On Aging
400 Llama Drive | (501) 279-9276
HOS
Elite Hospice
403 S. Poplar St., Suite F | (501) 279-7955
HOS
Hospice of Central Arkansas
403 S. Poplar St., Suite F | (501) 279-7955
INL
Harding Place Retirement Community
801 Benton Ave. | (501) 305-3100
PHC
Absolute Care Management
406A E. Booth Road | (501) 368-0112
PHC
Care Way Center
1005 Gum Springs Road | (501) 268-8000
PHC
Home Instead Senior Care
501 E. Race Ave. | (501) 758-7340
PHC
Integrity Resident Care
105 S. College St. | (501) 268-0400
PHC
SeniorKare**
Regional services | (501) 246-5450
SNF
Searcy Healthcare
1205 Skyline Drive | (501) 268-6188
SNF
The Crossing at Riverside Health & Rehabilitation
2500 E. Moore Ave. | (501) 268-2324
Trumann
HHC
East Arkansas Area Agency on Aging - Poinsett County
351 Campbell St. | (870) 483-2532
PHC
East Arkansas Area Agency on Aging**
351 Campbell St. | (800) 467-3278
PHC
Plantation Homes of Poinsett County
1316 Industrial Park Road | (870) 483-6621
SRV
AllCare Pharmacy*
329 Highway 463 N. | (870) 483-3625
SNF
Arlington Cove Healthcare
333 Melody Drive | (870) 275-4068
Walnut Ridge
PHC
East Arkansas Area Agency on Aging**
500 SW Lawrence | (800) 467-3278
SNF
Lawrence Hall Nursing Center
1051 W. Free St. | (870) 886-1295
SNF
Walnut Ridge Nursing & Rehabilitation Center
1500 W. Main St. | (870) 886-9022
SNF
The Green House Cottages of Walnut Ridge
1500 W. Main St. | (870) 886-9022
PHC
East Arkansas Area Agency on Aging**
(800) 467-3278
West Memphis
HHC
East Arkansas Area Agency on Aging - Crittenden County
720 Calvin Avery, Suite B & D | (870) 735-2262
HHC
Elite Home Health
318 S. Rhodes | (870) 732-7777
PHC
Absolute Care Management
201 W. Bond Ave. | (870) 732-8746
PHC
ALF Properties of Crittenden County
410 S. Avalon St. | (870) 394-9577
PHC
Crittenden Adult Care Services
718 E. Broadway | (870) 733-1235
PHC
East Arkansas Area Agency on Aging**
720 Calvin Avery | (800) 467-3278
PHC
Eden House Home Care
120 W. Tyler Ave. | (870) 394-4818
PHC
Genesis C&F Homecare of Arkansas
1985 Kroger Drive, Suite 11C | (870) 551-4028
PHC
Golden's Adult Day Care
225 N. Fifth St. | (870) 735-2007
PHC
Helen's Residential Care Facility
534 S. 16th St. | (870) 732-1200
PHC
J's Home Health
310 Mid Continent Plaza, Suite 601 | (870) 629-5110
PHC
Loving Arm Adult Daycare
130 S. 16th St. | (870) 732-7981
PHC
Premier Choice
602 N. Missouri St. | (870) 735-4411
PHC
West Memphis Residential Care
835 S. Woods Drive | (870) 735-7117
RES
Helen's Residential Care Facility
534 S. 16th St. | (870) 732-1200
SNF
West Memphis Health & Rehab
610 S. Avalon St. | (870) 735-4543
SNF
West Memphis Wellness Center
800 W. Broadway | (870) 735-5174
Wynne
HHC
CrossRidge Community Hospital Home Health Care
732 E. Eldridge Ave. | (870) 238-3300
HHC
East Arkansas Area Agency on Aging - Cross County
1421 S. Falls Blvd. | (870) 238-3816
PHC
Absolute Care Management
503 E. Levesque Ave. | (870) 208-9797
PHC
East Arkansas Area Agency on Aging**
1421 S. Falls Blvd. | (800) 467-3278
PHC
Murray's In Home Care
507 N. Falls Blvd. | (870) 587-3207
SNF
Crestpark Wynne
400 Arkansas St. | (870) 238-7941
SNF
River Ridge Rehabilitation & Care Center
1100 E. Martin Drive | (870) 238-4400
---
Alma
SNF
Alma Healthcare & Rehabilitation Center
401 Heather Ln. | (479) 632-4343
Atkins
SNF
Atkins Nursing & Rehabilitation Center
605 NW Seventh St. | (479) 641-7100
Barling
ASL
Mercy Crest Assisted Living
1300 Strozier Ln. | (479) 478-3000
HHC
Addus Homecare
1311 Fort St., Suite O | (479) 452-2625
PHC
Addus Homecare
1311 Fort St., Suite O | (479) 452-2625
PHC
Sebastian County Retirement Center
115 Fort St. | (479) 452-4949
SNF
Ashton Place Health & Rehab
318 Strozier Ln. | (479) 452-8181
Bella Vista
ASL
The Brookfield at Highland Crossing
3 Highland Crossing | (479) 855-5600
INL
Concordia Retirement Community
1 Concordia Drive | (479) 855-3714
PHC
Comfort Keepers
1801 Forrest Hills Blvd. | (479) 268-5668
PHC
Comfort Keepers
1801 Forrest Hills Blvd. | (479) 268-5668
PHC
Right At Home
3190 Bella Vista Way | (479) 855-6000
RES
Concordia Catered Assisted Living
11 Professional Drive | (479) 855-6464
SNF
Concordia Nursing & Rehab
7 Professional Drive | (479) 855-3735
SNF
Highland Healthcare & Rehabilitation Center
670 Rogers Road | (479) 876-1847
Bentonville
ASL
Legacy Village Assisted Living
1303 NE Legacy Parkway | (479) 271-2387
ASL
The Gardens at Osage Terrace
3317 SE L St. | (479) 254-8759
ASL
The Meadows Independent and Assisted Living
2300 SE 28th St. | (479) 273-9969
ASL
Village on the Park Bentonville
3800 SW Mt. Carmel Drive | (479) 364-0259
HHC
First Light Home Care
1116 S. Walton Blvd. | (479) 715-8055
HOS
Circle of Life Hospice
1201 NE Legacy Parkway | (479) 750-6632
INL
Hawthorne Heights
NE J St. | (479) 319-3019
INL
Village on the Park
3800 SW Mt. Carmel Drive | (479) 364-0259
MYC
Village on the Park
3800 SW Mt. Carmel Drive | (479) 364-0259
PHC
First Light Home Care
1116 S. Walton Blvd. | (479) 715-8055
PHC
SeniorKare**
Regional services | (501) 246-5450
SNF
Bradford House Nursing & Rehab
1202 SE 30th St. | (479) 273-3430
Berryville
HOS
Arkansas Hospice, Inc.
804 W. Freeman, Suite 4 | (866) 433-6078
SNF
Autumn Hill Therapy and Living
500 Hammond Ave. | (870) 423-6966
Booneville
HHC
Mercy Home Health
880 W. Main St. | (479) 675-2800
HHC
Visiting Nurses Agency of Western Arkansas
550 Heritage Drive | (479) 675-4234
SNF
Oak Manor Nursing & Rehabilitation Center
150 Morton Ave. | (479) 675-2689
Centerton
SNF
Apple Creek Health & Rehab
1570 W. Centerton Blvd. | (479) 224-4817
Charleston
SNF
Greenhurst Nursing Center
226 Skyler Drive | (479) 965-7373
Clarksville
ASL
Heritage Inn Retirement Center
702 South Hospital Drive | (479) 754-1167
HHC
Johnson Regional Home Care
1100 E. Poplar St. | (479) 705-1505
PHC
Clarksville Retirement Center
311 S. Central St. | (479) 754-7538
PHC
Johnson Regional Home Care
1100 E. Poplar St. | (479) 705-1505
PHC
SeniorKare**
Regional services | (501) 246-5450
SNF
Johnson County Health & Rehab
1451 E. Poplar St. | (479) 754-2052
Clinton
HHC
Ozark Health Home Care
428 Medical Center Parkway | (501) 745-7004
HHC
White River Area Agency On Aging
1299 Hwy. 65 South | (877) 482-2354
PHC
SeniorKare**
Regional services | (501) 246-5450
SNF
Ozark Health Nursing & Rehab Center
2500 Hwy. 65 South | (501) 745-9508
Danville
HHC
Chambers Memorial Home Health
719 Detroit Ave. | (479) 495-2241
PHC
Chambers Memorial Home Health
719 Detroit Ave. | (479) 495-2241
SNF
Mitchell's Skilled Nursing Facility
501 W. 10th | (479) 495-2914
Dardanelle
PHC
SeniorKare**
Regional services | (501) 246-5450
PHC
The Home Place
2004 N. Second St. | (479) 229-4361
SNF
Dardanelle Nursing & Rehabilitation Center
2199 State Hwy. 7 North | (479) 229-4884
Eureka Springs
ASL
Holly House
100 Ridgeview Road | (479) 253-9800
HHC
Elite Home Health
146 Passion Play Road | (479) 253-5554
PHC
SeniorKare**
Regional services | (501) 246-5450
SNF
Brighton Ridge
235 Huntsville Road | (479) 253-7038
Fairfield Bay
ASL
Indian Rock Village Health Center
265 Dave Creek Pkwy. | (501) 884-3210
ASL
Village Gardens
265 Dave Creek Pkwy. | (866) 567-1335
PHC
Village Gardens Level 1
265 Dave Creek Pkwy. | (501) 884-3210
SNF
Indian Rock Village Health Center
265 Dave Creek Pkwy. | (501) 884-3210
Farmington
ASL
Peachtree Village of Farmington
55 W. Rainsong St. | (479) 267-3335
Fayetteville
ASL
Brookstone Assisted Living
415 Longview Drive | (479) 443-3900
ASL
Butterfield Trail Village
1923 E. Joyce Blvd. | (479) 442-7220
ASL
Morningside of Fayetteville
4461 N. Crossover Road | (479) 443-1908
ASL
Springhouse Village
3434 N. Crossover Road | (479) 249-8858
ASL
Avenir Memory Care at Fayetteville
1967 W. Truckers Drive | (479) 442-2011
HHC
Area Agency on Aging of Northwest Arkansas
4332 N. Waterside Court | (479) 442-5194
HHC
Brightstar Northwest
4264 N. Frontage Road | (479) 443-0600
HHC
Care IV Home Health Services
3801 Johnson Mill Blvd., Suite 1 | (479) 750-1155
HHC
Encompass Home Health of Arkansas
540 E. Appleby Road, Suite 102 | (479) 442-6363
HHC
Kindred At Home
2961 Pointe Circle, Suite 202 | (479) 225-9016
HHC
Washington Regional Medical Center Home Health
88 Colt Square | (479) 463-1840
HOS
Washington Regional Hospice
325 E. Longview | (479) 463-7385
INL
Grand Village at Clear Creek
1998 W. Grand Blvd. | (479) 435-7500
MYC
Avenir Memory Care at Fayetteville
1967 W. Truckers Drive | (479) 442-2011
MYC
Springhouse Village
3434 N. Crossover Road | (479) 316-0805
PHC
Brightstar Northwest
4264 N. Frontage Road | (479) 443-0600
PHC
Care IV Home Health
3801 Johnson Mill Blvd., Suite 1 | (479) 750-1155
PHC
ELDirect In-Home Senior Care (1 Source Senior Care)
1820 Shelby Ln. | (479) 443-7173
PHC
Kindred At Home
2961 Pointe Circle, Suite 202 | (479) 225-9016
PHC
Providential Home Care**
Regional services | (479) 668-4338
PHC
SeniorKare**
Regional services | (501) 246-5450
SNF
Arkansas State Veterans Home at Fayetteville
1179 N. College Ave. | (479) 444-7001
SNF
Fayetteville Health & Rehabilitation Center
3100 N. Old Missouri Road | (479) 521-4353
SNF
Katherine's Place at Wedington
4405 W. Persimmon St. | (479) 444-6108
SNF
North Hills Life Care & Rehab
27 E. Appleby Road | (479) 444-9000
Flippin
SNF
Twin Lakes Therapy & Living
6152 Hwy. 202 East | (870) 453-4603
Fort Smith
ASL
Peachtree Village
1500 Fresno St. | (479) 785-5544
ASL
The Brookfield Senior Living and Memory Care
2300 Fianna Oaks Drive | (479) 649-7100
ASL
Brookdale Fort Smith
5501 Duncan Road | (479) 484-5556
HHC
Area Agency on Aging of West Arkansas
524 Garrison Ave. | (479) 424-2016
HHC
Elite Home Health
2910 Jenny Lind Road, Suite 9A | (479) 494-7273
HHC
Home Instead Senior Care
3800 Rogers Ave., Suite 1 | (479) 434-6960
HHC
Kindred at Home I
3321 S. 74th St., Suite B | (479) 452-0424
HHC
Mercy Home Health
3300 S. 70th St. | (479) 484-5511
HHC
PRN Medical Servies
4500 Rogers Ave. | (479) 785-9222
HHC
Senior Helpers
1501 Waldron Road, Suite 201 | (479) 239-1153
HHC
Sparks Health System Home Health
4300 Rogers Ave., Suite 35 | (479) 441-5850
HHC
Superior Senior Care
2520 Rogers Ave. | (479) 783-1206
HHC
Visiting Angels of Northwest Arkansas
3501 Greenwood Road, Suite 11 | (479) 434-4634
HHC
Visiting Nurses Agency of Western Arkansas
524 Garrison Ave. | (479) 783-5550
HOS
Mercy Hospice
3300 S. Seventh St. | (479) 573-3866
HOS
Peachtree Hospice
2910 Jenny Lind Road | (479)494-0100
HOS
Visiting Nurses Agency of Western Arkansas, Inc.
524 Garrison Ave. | (479) 783-5550
INL
Brookdale Fort Smith
5501 Duncan Road | (479) 484-5556
INL
Butterfield Place
8420 Phoenix Ave. | (479) 255-2210
INL
Peachtree Village
1500 Fresno St. | (479) 785-5544
PHC
Addus Home Care
1311 Fort St., Suite O | (479) 452-2625
PHC
Area Agency on Aging of West Arkansas
524 Garrison Ave. | (479) 783-4500
PHC
Assiduous Home Care
9000 Rovers Ave., Suite A | (479) 652-1856
PHC
Bost Inc
7701 S. Zero St. | (479) 478-5695
PHC
ELDirect In-Home Senior Care ( 1 Source Senior Care)
1513 Jenny Lind | (479) 709-9005
PHC
Elite Home Health
2910 Jenny Lind Road | (479) 494-7273
PHC
Home Helpers
2120 S. Waldron Road, Suite 3, Bldg A | (479) 308-2588
PHC
Home Instead Senior Care
3800 Rogers Ave. | (479) 434-6960
PHC
Olivia's Senior Home Care
5111 Rogers Ave., Ste 504 | (479) 285-5241
PHC
PRN Medical Servies
4500 Rogers Ave. | (479) 785-9222
PHC
Senior Helpers
1501 Waldron Road, Suite 201 | (479) 239-1153
PHC
Superior Senior Care
2520 Rogers Ave. | (479) 783-1206
PHC
Visting Angels of Northwest Arkansas
3501 Greenwood Road, Suite 11 | (479) 434-4634
SNF
Chapel Ridge Health & Rehab
4623 Rogers Ave. | (479) 452-1541
SNF
Covington Court Health & Rehabilitation Center
4500 Old Greenwood Road | (479) 646-5700
SNF
Fianna Hills Nursing & Rehabilitation Center
8411 S. 28th St. | (479) 648-9600
SNF
Legacy Health & Rehabilitation Center
3310 N. 50th St. | (479) 783-3101
SNF
Methodist Village Senior Living
7425 Euper Ln. | (479) 452-1611
SNF
The Waters of Fort Smith
5301 Wheeler Ave. | (479) 646-3454
Greenwood
HHC
Visiting Nurses Agency of Western Arkansas
42 Town Square | (479) 996-7040
PHC
Greenwood Retirement Center
1200 W. Center St. | (479) 996-7878
SNF
Pink Bud Home for the Golden Years
400 S. Coker St. | (479) 996-4125
Harrison
ASL
Maple Esplanade Assisted Living
1400 Old Bergman Road | (870) 204-5276
HHC
Area Agency on Aging of Northwest
1510 Rock Springs Road | (870) 741-1144
HHC
Better Home Care
715 W. Sherman Ave., Suite D | (870) 365-6767
HHC
Home Health Care of North Arkansas Regional Medical Center
620 N. Main St. | (870) 414-4100
HHC
Home Helpers of Harrison (formerly Atlis In Home Care)
320 W. Bower | (870) 741-7512
HHC
Home Instead Senior Care
702 N. Main St. | (870) 365-0125
HHC
Kindred at Home
105 E. Crandall Ave. | (870) 280-2926
HOS
Hospice of the Hills
501 E. Sherman | (870) 414-4100
PHC
Area Agency on Aging of West Arkansas
1510 Rock Springs Road | (870) 741-1144
PHC
Better Home Care
715 W. Sherman Ave., Suite D | (870) 365-6767
PHC
Harrison Retirement Village
520 Harness St. | (870) 365-3656
PHC
Home Instead Senior Care
702 N. Main St. | (870) 365-0125
PHC
Kindred At Home
105 E. Crandall Ave. | (870) 280-2927
PHC
Three Rivers Senior Services
702 N. Main St. | (870) 365-0125
SNF
Hillcrest Home
1111 Maplewood Road | (870) 741-5001
SNF
Somerset Senior Living at Harrison
115 Orendorff | (870) 741-3438
SNF
Somerset Senior Living at Mount Vista
202 Tims Ave | (870) 741-7667
SNF
Somerset Senior Living of Harrison
115 Orendorff Ave. | (870) 741-3438
Holiday Island
ASL
Green Acre Lodge of Holiday Island
89 Hillside Drive | (479) 253-6553
ASL
Peachtree Village of Holiday Island
5 Park Drive | (479) 253-9933
INL
Peachtree Village at Holiday Island
5 Park Drive | (479) 253-9933
PHC
Peachtree Village at Holiday Island
5 Park Drive | (479) 253-9933
Huntsville
ASL
Countryside Assisted Living
722 Phillips Place | (479) 738-1500
SNF
Meadowview Healthcare & Rehab
825 N. Gaskill | (479) 738-2021
Jasper
SNF
Newton County Skilled Nursing Facility
610 E. Court St. | (870) 446-2333
Lowell
HHC
Visting Angels of Northwest Arkansas
213 W. Monroe Ave., Suite D | (479) 419-9495
PHC
Pinnacle In Home Care
213 W. Monroe Ave., Suite L | (479) 595-8663
PHC
Visting Angels of Northwest Arkansas
213 W. Monroe Ave., Suite D | (479) 419-9495
Mulberry
PHC
Mulberry Lodge
949 N. Main St. | (479) 997-8001
Ola
SNF
Deerview
502 W. Pennington | (479) 489-5237
Ozark
HHC
Visiting Nurses Agency of Western Arkansas
257 Airport Road, Suite D | (479) 667-4870
HOS
Visiting Nurses Agency of Western Arkansas, Inc.
257 Airport Road, Suite D | (479) 667-4870
PHC
SeniorKare**
Regional services | (501) 246-5450
SNF
Ozark Skilled Nursing Facility
600 N. 12th St | (479) 667-4791
Paris
HHC
Visiting Nurses Agency of Western Arkansas
333 S. First St. | (479) 963-6868
PHC
Short Mountain Lodge Residential
2721 W. Walnut St. | (479) 963-2255
SRV
AllCare Pharmacy
508 E. Walnut St. | (479) 963-6400
SNF
Paris Health & Rehabilitation Center
1414 S. Elm St. | (479) 963-6151
Pea Ridge
ASL
Autumn Place at Oak Ridge
103 Wade Lane | (479) 451-1800
Prairie Grove
SNF
Prairie Grove Health & Rehabilitation
621 S. Mock St. | (479) 846-2169
Rogers
ASL
Bridgewood Arkansas Rogers
2200 W. Laurel Ave. | (479) 631-0455
ASL
Grand Brook Memory Care
5125 W. Pleasant Grove | (479) 964-5727
ASL
Green Acre Easy Living
2407 W. Oak St. | (479) 631-1552
ASL
Innisfree Retirement Community
300 W. Innisfree Circle | (479) 439-9276
ASL
Magnolia Place Alzheimer's Special Care Center
2000 S. Hampton Place | (479) 636-0799
ASL
Primrose Retirement
650 S. Dodson Road | (479) 316-4537
ASL
Village on the Park Rogers
2200 W. Laurel Ave. | (479) 631-0455
HHC
A-List Home Care LLC
200 S. 20th St., Suite A2 | (479) 877-6981
HHC
Addus Homecare
201 S. 20th St., Suite 8 & 11 | (479) 877-3300
HHC
Home Helpers
2815 W. Walnut St., Suite B | (479) 246-0140
HHC
Home Instead Senior Care
100 N. Dixieland Road A5 | (479) 936-9885
HHC
Mercy Home Health
1200 W. Walnut St., Suite 1800 | (479) 936-2978
HHC
Superior Senior Care
104 N. 37th St. | (479) 636-7700
INL
Apple Blossom Retirement community
2501 N. 22nd St. | (479) 888-4972
INL
Innisfree Retirement Community
300 W. Innisfree Circle | (479) 439-9276
INL
Village on the Park Rogers
2200 W. Laurel Ave. | (479) 631-0455
MYC
Grand Brook Memory Care
5125 W. Pleasant Grove | (479) 372-4508
MYC
Magnolia Place Alzheimer's Special Care Center
2000 S. Hampton Place | (479) 636-0799
MYC
Village on the Park Rogers
2200 W. Laurel Ave. | (479) 631-0455
PHC
Addus Healthcare
201 S. 20th St., Suite 11 | (479) 877-3300
PHC
Home Helpers
2815 W. Walnut St., Suite B | (479) 246-0140
PHC
Home Instead Senior Care
100 N. Dixieland Road A5 | (479) 936-9885
PHC
SeniorKare**
Regional services | (501) 246-5450
PHC
Superior Senior Care
104 N. 37th St. | (479) 636-7700
SRV
AllCare Pharmacy
216 S. 13th St. | (479) 621-0400
SNF
Ashley Health & Rehabilitation
2600 N. 22nd St. | (479) 899-6778
SNF
Innisfree Health & Rehab
301 S. 24th St. | (479) 636-5545
SNF
Jamestown Nursing & Rehab
2001 Hampton Place | (479) 986-9945
SNF
Pinnacle Health & Rehabilitation
1101 S. Promenade Blvd. | (479) 268-3989
SNF
Rogers Health & Rehabilitation Center
1149 W. New Hope Road | (479) 636-6290
SNF
The Waters of Rogers
1513 S. Dixieland Road | (479) 636-5841
Russellville
ASL
Brookdale Russellville
240 S. Inglewood Ave. | (479) 890-6709
ASL
River Valley Assisted Living
1909 Fairway Blvd. | (479) 567-5578
HHC
Absolute Care Management
2504 W. Main St., Suite K | (479) 219-5136
HHC
AMCARE Senior Life Partners
914 W. B St. | (479) 880-1112
HHC
Area Agency on Aging of West Arkansas Central Arkansas
915 S. Arkansas Ave. | (501) 967-9300
HHC
Care IV Home Health
1008 W. Main St. | (479) 964-0072
HHC
Crossroads Senior Care at Home
910 W. Main St. | (479) 498-6342
HHC
Friendship Community Care
920 University Drive | (479) 967-2322
HHC
In Focus Elder Care
703 W. Main St. | (479) 967-3005
HHC
Kindred at Home
1509 E. Main St., Suite 6B | (479) 890-2730
HHC
Superior Senior Care
500 W. B St., Suite C | (479) 858-6158
HHC
Trinity Home Health
1708 W. C Place | (479) 968-4544
HOS
Arkansas Hospice Russellville
2405 E. Parkway, Suite 3 | (479) 498-2050
HOS
Kindred Hospice I
3801 W. Main Street, Suite A | (479) 219-6211
PHC
AMCARE Senior Life Parnters
914 W. B St. | (479) 880-1112
PHC
Care IV Home Health
1008 W. Main St. | (479) 964-0072
PHC
Crossroads Senior Care at Home
910 W. Main St. | (479) 498-6342
PHC
Friendship Community Care
920 University Drive | (479) 967-2322
PHC
In Focus Elder Care
703 W. Main St. | (479) 967-3005
PHC
Kindred At Home
1509 E. Main St., Suite 6B | (479) 890-2730
PHC
SeniorKare**
Regional services | (501) 246-5450
PHC
SeniorKare**
Regional services | (501) 246-5450
PHC
Superior Senior Care
500 W. B St., Suite C | (479) 858-6158
SNF
Legacy Heights Nursing & Rehab
900 W. 12th St. | (479) 968-5858
SNF
Russellville Nursing & Rehabilitation Center
215 S. Portland Ave. | (479) 968-5256
SNF
Stella Manor Nursing & Rehabilitation Center
400 N. Vancouver Ave. | (479) 968-4141
Siloam Springs
SNF
Siloam Healthcare
811 W. Elgin St. | (47 ) 524-3128
Springdale
ASL
Morningside of Springdale
672 Jones Road | (479) 306-4191
ASL
Windcrest Health & Rehab
2455 Lowell Road | (479) 756-9000
HHC
Elite Home Health
4847 Kaylee Ave., Suite B | (479) 756-5002
HHC
Gracon/Homebound
3291 S. Thompson St., Suite E103 | (479) 347-7915
HHC
Northwest Home Health
2921 Old Missouri Road, Suite 1 & 2 | (479) 751-1601
HHC
PRN Medical Servies
4400 S. Thompson St. | (479) 756-8701
HOS
Circle of Life Hospice
901 Jones Road | (479) 750-6632
HOS
Elite Hospice
4847 Kaylee Ave., Suite A | (479) 751-3019
HOS
Hospice of North Arkansas
3277 W. Sunset Avenue, Suite D | (479) 751-3019
INL
The Gardens at Arkanshire
5000 Arkanshire Cirle | (479) 231-3032
PHC
Elite Home Health
4847 Kaylee Ave., Suite B | (479) 756-5002
PHC
Gracon/Homebound
3291 S. Thompson St., Suite E103 | (479) 347-7915
PHC
PRN Medical Servies
4400 S. Thompson St. | (479) 756-8701
PHC
Rocking Chair Inn
1232 Stultz Road | (479) 756-9428
PHC
SeniorKare**
Regional services | (501) 246-5450
RES
Windcrest Health & Rehab
2455 Lowell Road | (479) 756-9000
SNF
Shiloh Nursing & Rehab
1092 W. Stultz Road | (479) 750-3800
SNF
Springdale Health & Rehabilitation Center
102 N. Gutensohn | (479) 756-0330
SNF
The Maples at Har-Ber Meadows
6456 Lynchs Prairie Cove | (479) 361-4669
SNF
Walnut Grove Nursing & Rehabilitation Center
1393 E. Don Tyson Parkway | (479) 751-2390
SNF
Westwood Health & Rehab
802 S. West End St. | (479) 756-1600
SNF
Windcrest Health & Rehab
2455 Lowell Road | (479) 756-9000
Van Buren
ASL
Hope's Creek Retirement
2502 Fayetteville Road | (479) 471-1900
ASL
Memory Lane Alzheimers Care
1012 Fayetteville Road | (479) 474-7233
HHC
Amedisys Home Health Care of Arkansas
117 Northridge Drive, Suite C | (479) 474-4892
MYC
Memory Lane
1012 Fayetteville Road | (479) 474-7233
SNF
Crawford Healthcare & Rehabilitation Center
2010 Main St. | (479) 474-6885
SNF
Valley Springs Rehabilitation & Health Center
228 Pointer Trail West | (479) 474-5276
SNF
Van Buren Healthcare & Rehabilitation Center
1404 N. 28th St. | (479) 474-8021
Yellville
SNF
Creekside Health & Rehab
620 N. Panther Ave. | (870) 449-4201
SNF
Somerset Senior Living at Yellville
620 N. Panther Ave | (870) 449-4201
INL
Concordia Retirement Community
1 Concordia Drive | (479) 855-3714
RES
Concordia Catered Assisted Living
11 Professional Drive | (479) 855-6464
---
Bradley
PHC
Martin Family Support Services
109 W. Fifth St. | (870) 894-3789
Brinkley
HHC
Kindred at Home
409 W. Fourth St. | (870) 527-2186
PHC
Absolute Care Management
311 W. Cedar St. | (870) 589-2239
SNF
Cla-Clif Nursing & Rehab Center
1214 N. Main | (870) 734-3636
Camden
HHC
Doctor's Home Care
726 California Ave. | (870) 836-1301
HHC
Kindred at Home
222 W. Washington St. | (870) 498-4357
HOS
Kindred Hospice
235 Garden Oaks Drive SW, Suite 235 | (870) 498-4359
HOS
Ouachita County Medical Center Hospice
638 California Avenue SW | (870) 836-1301
PHC
Kindred At Home
222 W. Washington St., Suite 1 | (870) 498-4358
PHC
SeniorKare**
Regional services | (501) 246-5450
PHC
Woodland Hills Home Care
625 Adams Ave. SE, Suite 1 | (870) 836-8877
SNF
Longmeadow Nursing Center - Camden
365 Alpha St. | (870) 836-9337
SNF
Ouachita Nursing & Rehabilitation Center
1411 Country Club Road | (870) 836-4111
SNF
Pine Hills Health & Rehabilitation Center
900 Magnolia Road | (870) 390-4732
SNF
Silver Oaks Health & Rehabilitation
1875 Old Wire Road | (870) 836-6831
SNF
Somerset Senior Living at Pine Hills
900 Magnolia Rd | (870) 390-4732
Crossett
ASL
The Pillars of The Community
400 Main St. | (870) 471-9797
HHC
ACMC Family Home Health
211 Pine St. | (870) 364-5555
HHC
Area Agency on Aging of Southeast Arkansas - Ashley County
208 Alabama | (870) 364-7788
PHC
ACMC Family Home Health
211 Pine St. | (870) 364-5555
SNF
Somerset Senior Living at Crossett
1101 Waterwell Road | (870) 364-5721
SNF
Somerset Senior Living at Crossett
1101 Waterwell Rd | (870) 364-5721
SNF
Somerset Senior Living at Stonegate
118 Jerry Selby Drive | (870) 364-1534
SNF
Stonegate Villa Health & Rehab
118 Jerry Selby Drive | (870) 364-1534
Dermott
SNF
Dermott City Skilled Nursing Facility
702 W. Gaines St | (870) 538-3241
Des Arc
SNF
Des Arc Nursing & Rehabilitation Center
2216 W. Main St. | (870) 256-4194
DeWitt
HHC
Elite Home Health
1626 S. Madison, Suite A | (870) 946-2301
PHC
The West Haven
312 S. Main St. | (870) 946-1501
SNF
Crestpark DeWitt
1325 Liberty Drive | (870) 946-3569
SNF
DeWitt Skilled Nursing Facility
1605 S. Madison St. | (870) 233-2252
Dumas
ASL
The Oasis of Dumas Assisted Living Facility
38 Belmont St. | (870) 382-2609
HHC
Delta Memorial Hospital Home Health Care
803 Hwy. 65 S. | (870) 382-8184
PHC
Angels on Duty
124 N. Main St. | (501) 786-5032
PHC
Precious Jewels In Home Care
124 N. Main St., Suite B | (870) 382-1001
PHC
The Oasis of Dumas Assisted Living Facility
38 Belmont St. | (870) 382-2609
RES
The Oasis of Dumas Assisted Living Facility
38 Belmont St. | (870) 382-2609
El Dorado
ASL
Advanced Health & Rehab of Union County
1700 E. Short Hillsboro | (870) 862-5124
HHC
South Arkansas Home Health
431 W. Oak St. | (870) 862-2631
HOS
Life Touch Hospice
2301 Champagnolle Road | (870) 862-0337
PHC
Community Living Arrangements
714 W. Grove | (870) 881-4160
PHC
Complete Home Care
333 Maple Hill St. | (870) 864-9316
PHC
Elder House Adult Day Care Center
615 W. Cedar St. | (870) 875-1711
PHC
SeniorKare**
Regional services | (501) 246-5450
PHC
Superior Senior Care
515 E. Faulkner St. | (870) 863-0012
SNF
Advanced Health & Rehab of Union County
1700 E. Short Hillsboro | (870) 862-5124
SNF
Courtyard Rehabilitation & Health Center
2415 W. Hillsboro | (870) 875-1580
SNF
Hudson Memorial Skilled Nursing Facility
700 N. College Ave. | (870) 863-8131
SNF
Oak Ridge Health & Rehabilitation
501 Hudson St. | (870) 862-5511
SNF
Timberlane Health & Rehabilitation
2002 Timberwood Road | (870) 863-8379
Fordyce
ASL
Dalton's Place at Fordyce Assisted Living
1718 Industrial Drive | (870) 890-2408
HHC
Elite Home Health
310 W. College St. | (870) 352-2603
SNF
Dallas County Medical Center
201 N. Clifton St. | (870) 352-6300
SNF
St. Johns Place of Arkansas
1400 Hwy. 79/167 Byp. | (870) 352-2104
Hamburg
PHC
Magnolia Manor of Hamburg
711 N. Main St. | (870) 853-8285
Hazen
SNF
Maple Healthcare
200 S Maple St. | (870) 255-4323
SNF
Spring Place Health & Rehab Center
92 S. Maple St. | (870) 255-4323
Helena
HHC
East Arkansas Area Agency on Aging
617 Walnut St., Room 204 | (870) 338-7136
HHC
Regional Home Care
1801 Martin Luther King Jr. Drive | (870) 816-3500
PHC
Absolute Care Management
604 Oakland Ave. | (870) 338-4346
PHC
East Arkansas Area Agency on Aging **
617 Walnut, Room 204 | (800) 467-3278
PHC
Omega Care
111 Lohmans Ln. | (870) 338-3289
PHC
Superior Senior Care
567 Oakland Ave. | (870) 338-3000
SNF
Crestpark Retirement Helena
111 Hospital Drive | (870) 338-9886
Lake Village
HHC
Area Agency on Aging of Southeast Arkansas
114 N. Chicot St. | (870) 265-3841
HHC
Chicot Memorial Medical Center Home Health Care
2729 S. Hwy. 65 & 82 | (870) 265-9200
SNF
Lake Village Rehabilitation & Care Center
903 Borgognoni Drive | (870) 265-5337
Marianna
PHC
Absolute Care Management
448 S. Alabama St. | (870) 336-7655
PHC
Tender Loving Care Private Home
467 W. Chestnut St. | (870) 821-5020
PHC
Wilson's Residential Care
1679 Hwy. 243 S. | (870) 295-3557
RES
Wilson's Residential Care
1679 Hwy. 243 S. | (870) 295-3557
SNF
Crestpark Marianna
700 W. Chestnut | (870) 295-3466
McGehee
HHC
Area Agency on Aging of Southeast Arkansas
900 Oak St. | (870) 222-6960
PHC
Superior Senior Care
506B Hwy. 65 N. | (870) 222-3970
SNF
Somerset Senior Living at McGehee
700 Mark Drive | (870) 222-5450
Monticello
ASL
Grand Manor of Monticello
1960 Hwy. 425 N. | (870) 412-4400
HHC
Area Agency on Aging of Southeast Arkansas - Drew County
110 E. Gaines | (870) 367-9873
HHC
Drew Memorial Hospital Home Health Care
778 Scogin Drive | (870) 367-2411
HHC
Kindred at Home
604B W. Bolling St. | (870) 367-0283
HOS
Hospice Home Care of Monticello
990 Hwy. 425 N. | (870) 367-9008
PHC
Drew Memorial Hopsital
778 Scogin Drive | (870) 367-2411
PHC
Kindred At Home
604B W. Bolling St. | (870) 412-4611
SNF
Belle View Estates Rehabilitation & Care Center
1052 Old Warren Road | (870) 367-0044
SNF
The Woods of Monticello Health & Rehabilitation
1194 N. Chester St. | (870) 367-6852
Pine Bluff
ASL
Garden Pointe Living Center
7001 S. Hazel St. | (870) 535-9283
ASL
The Gardens at Whispering Knoll
6814 S. Hazel St. | (870) 850-2939
ASL
Trinity Village Medical Center
6400 Trinity Drive | (870) 879-3317
HHC
Area Agency on Aging of Southeast Arkansas - Jefferson County
709 E. Eighth Ave. | (870) 543-6300
HOS
Arkansas Hospice Pine Bluff
3801 Ridgway Road, Suite 2A | (870) 850-6195
HOS
Hospice Care Services
Chapel Village, Suite 12, 3801 Camden Road | (870) 534-4847
HOS
Hospice Home Care of Pine Bluff, PLLC
3135 W. 28th Avenue | (870) 540-0727
PHC
Absolute Care Management
2620 W. 28th Ave. | (870) 395-7550
PHC
Area Agency on Aging of Southeast Arkansas
709 E. Eighth Ave. | (870) 543-6300
PHC
Dianne's Adult Heath Daycare
601 Ohio St. | (870) 536-2844
PHC
Precious Years Adult Day Health Care
3601 W. Sixth Ave. | (870) 534-8207
PHC
SeniorKare**
Regional services | (501) 246-5450
SRV
Express RX
3006 W. 28th Ave. | (870) 850-0159
SNF
Arkansas Convalescent Center
6301 S. Hazel St. | (501) 534-8153
SNF
Trinity Village Medical Center
6400 Trinity Drive | (870) 879-3317
Rison
HHC
Area Agency on Aging of Southeast Arkansas - Cleveland County
730 N. Pecan St. | (870) 619-4127
SNF
The Green House Cottages of Southern Hills
701 S. Main St. | (870) 325-6202
Sheridan
ASL
Crown Point Retirement Center
510 S. Rose St. | (870) 942-4623
PHC
Crown Point Retirement Center
510 S. Rose St. | (870) 942-4623
SNF
Sheridan Healthcare & Rehabilitation Center
113 S. Briarwood Drive | (870) 942-2183
Star City
ASL
Dalton's Place at Star City
142 Teva St. | (870) 628-3033
HHC
Area Agency on Aging of Southeast Arkansas
711 S. Lincoln Ave. | (870) 619-4514
SNF
Gardner Nursing & Rehabilitation
702 N. Drew St. | (870) 628-4144
SNF
Lincoln Heights Healthcare
505 E. Victory St. | (870) 619-2139
Stuttgart
PHC
SeniorKare**
Regiona services | (501) 246-5450
HHC
Area Agency on Aging of Southeast Arkansas
807 N. Main | (870) 663-4161
PHC
Diamond Oak Home Care
2204 S Timber St. | (870) 672-7368
PHC
Forrest Manor
420 W. Huron | (870) 673-4383
SNF
Crestpark Stuttgart
707 W. 20th St. | (870) 673-1657
Warren
ASL
Guest House of Warren
1105 Woodlawn St. | (870) 226-2346
HHC
Area Agency on Aging of Southeast Arkansas
96 N. Etheridge | (870) 226-5769
HHC
Bradley County Medical Center
404 S. Bradley St. | (870) 226-3731
PHC
Bradley County Medical Center
404 S. Bradley St. | (870) 226-3731
PHC
Guest House of Warren
1105 Woodlawn St. | (870) 226-2346
PHC
Superior Senior Care
309 N. Myrtle | (870) 466-5133
SNF
Chapel Woods Health & Rehabilitation
1440 E. Church St | (870) 226-6766
West Helena
PHC
Majestic Home Care
340 N. Sebastain St. | (870) 753-4105
White Hall
HHC
Jefferson HomeCare
232 Frankie Lane | (870) 534-3420
PHC
East Arkansas Area Agency on Aging **
617 Walnut, Room 204 | (800) 467-3278
SNF
The Waters of White Hall
9209 Dollarway Road | (870) 247-0800
---
Arkadelphia
ASL
The Plaza at Twin Rivers
3007 Twin Rivers Drive | (870) 403-6201
HHC
Area Agency on Aging of West Arkansas Central Arkansas
2749 Pine St., Suite B | (870) 246-8708
HHC
Baptist Health Home Health - Arkadelphia
3050 Twin Rivers Drive | (870) 245-1040
HOS
Baptist Health Hospice - Arkadelphia
3050 Twin Rivers Drive | (870) 245-1041
PHC
SeniorKare**
Regional services | (501) 246-5450
SRV
Walgreens Pharmacy
3002 W. Pine St. | (870) 246-3044
SNF
Courtyard Gardens Health & Rehab Center
2701 Twin Rivers Drive | (870) 246-5566
SNF
Twin Rivers Health & Rehabilitation
3021 Twin Rivers Drive | (870) 246-6337
Ashdown
HHC
Little River Memorial Hospital Home Health
450 W. Locke St., Suite A | (870) 898-5011
RES
Pinecrest Retirement Lodge
2048 Rankin St. | (870) 898-8383
SNF
Little River Nursing & Rehab
162 Hwy. 32-2A | (870) 898-5101
SNF
Pleasant Manor Nursing & Rehab
950 Homestead | (870) 898-5001
Bradley
PHC
Martin Family Support
109 W. Fifth St. | (870) 894-3789
DeQueen
HHC
Amedisys Home Health
307 W. Stillwell Ave. | (870) 642-4214
SNF
Bear Creek Healthcare
322 W. Collin Raye Drive | (870) 642-3562
Dierks
SNF
Dierks Health & Rehab
402 S. Arkansas Ave. | (870) 286-3100
Glenwood
ASL
Oak Park Village
507 Mountain View Road | (870) 356-4426
SNF
Glenwood Health & Rehabilitation
615 Mountain View Road | (870) 356-3953
SNF
Somerset Senior Living at Glenwood
615 Mountain View Rd | (870) 356-3953
Gurdon
SRV
Walgreens Pharmacy
201 N. Elm Street | (870) 353-4442
Hope
ASL
Hope Haven Assisted Living Community
500 W. 23rd St. | (870) 777-8655
HHC
Kindred at Home
209 S. Main St., Suite E & F | (870) 292-4937
PHC
Horizons of Hope
707 Greenwood St. | (870) 722-6662
PHC
Kindred At Home
209 S. Main St., Suite E & F | (870) 292-4937
RES
Hope Haven Assisted Living Community
500 W. 23rd St. | (870) 777-8655
SRV
Express RX of Hope
717 S. Main St. | (870) 777-4643
SNF
Heather Manor Nursing & Rehabilitation Center
400 W. 23rd St. | (870) 777-3448
Hot Springs
ASL
Garrett Manor
142 Brighton Terrace | (501) 525-0865
ASL
The Atrium at Serenity Pointe Apartments
2803 Albert Pike Road | (727) 877-2076
ASL
West Shores
2607 Albert Pike Road | (501) 510-6787
HHC
Area Agency on Aging of West Arkansas Central Arkansas
905 W. Grand Ave. | (501) 321-2811
HHC
Care IV Home Health
100 Ridgeway, Suite 3 | (501) 623-5656
HHC
CHI St. Vincent Hot Springs Health at Home
220 McAuley Ct. | (501) 318-6800
HHC
Elite Home Health
835 Central Ave., Suite 301 | (501) 627-0540
HHC
Kindred at Home I
4328 Central Ave., Suite E | (501) 525-5888
HHC
Trinity Central Home Health
106 Ridgeway St., Suite H | (501) 321-0708
HOS
Arkansas Hospice Hot Springs
508 Ouachita Ave., Suite A | (501) 318-9992
HOS
Elite Hospice
135 Amity Road, Suite A | (501) 623-2076
HOS
Hospice Home Care of Hot Springs
4332 Central Ave. | (501) 321-4014
HOS
Kindred Hospice I
2212 Malvern Ave., Suite 3 | (501) 781-4033
HOS
Kindred Hospice II
2212 Malvern Avenue, Suite 3 | (501) 781-4033
INL
Aristocrat Manor Apartments
240 Central Ave. | (501) 624-4601
INL
The Clear Spring (formerly Crown Trace Villa)
101 Second St. | (501) 623-6308
INL
West Shores
2607 Albert Pike Road | (501) 510-6787
MYC
Seniors Comfort Assisted Living
100 Saint Nichols Court | (480) 414-3323
PHC
All Ages Home Care Services
618 Hobson Ave. | (501) 623-2000
PHC
Area Agency on Aging of West Arkansas Central Arkansas
905 W. Grand Ave. | (501) 321-2811
PHC
Arkansas Home Care Assistance
3955 Central Ave., Suite 4 | (501) 463-9425
PHC
BrightStar Care
1009 W. Grand Ave. | (501) 623-7827
PHC
Fairweather Manor
320 Whittington Ave. | (501) 623-5260
PHC
First Step Arkansas
407 Carson St. | (501) 624-6468
PHC
Home Instead Senior Care
300 Ouachita Ave. | (501) 625-3133
PHC
It's About You
923 Central Ave. | (501) 623-6800
PHC
Kindred at Home
4328 Central Ave. | (501) 525-5888
PHC
Lakewood Residential Care
264 Lakepark Drive | (501) 262-1559
PHC
Senior Helpers
4836 Park Ave. | (501) 204-6202
PHC
SeniorKare**
Regional services | (501) 246-5450
PHC
Superior Senior Care
620 Ouachita Ave. | (501) 321-1743
PHC
TLC Home Care
927 Pittman Road | (501) 802-0404
SRV
Express Rx (formerly AllCare Pharmacy)
105 Sawtooth Oak St. | (501) 623-2222
SNF
Belvedere Nursing & Rehabilitation Center
2600 Park Ave. | (501) 321-4276
SNF
Canyon Springs Health & Rehabilitation Center
1401 Park Ave. | (501) 623-3781
SNF
Garland Nursing & Rehabilitation Center
610 Carpenter Dam Road | (501) 262-2571
SNF
Hot Springs Nursing & Rehabilitation - A Waters Community
552 Golf Links Road | (501) 624-7149
SNF
Lake Hamilton Health & Rehab
120 Pittman Road | (501) 767-7530
SNF
Lakewood Therapy and Living Center
260 Lake Park Drive | (501) 262-1920
SNF
Quapaw Care & Rehabilitation Center
138 Brighton Terrace | (501) 525-7140
SNF
Somerset Senior Living at Canyon Springs
1401 Park Ave. | (501) 623-3781
SNF
The Pines Nursing & Rehabilitation Center
524 Carpenter Dam Road | (501) 262-4124
SNF
Village Springs Health & Rehabilitation
1208 N. Hwy. 7 | (501) 624-5238
Hot Springs Village
ASL
Good Samaritan Society - Hot Springs Village
121 Cortez Road | (501) 922-2000
ASL
Mt. Carmel Community at The Village
540 Ponce de Leon | (501) 922-0166
HOS
Lester Dierksen Memorial Hospice, LLC
3648 N. Highway 7, Suite E | (501) 318-1500
PHC
SeniorKare**
Regional services | (501) 246-5450
SNF
Good Samaritan Society - Hot Springs Village
121 Cortez Road | (501) 922-2000
Magnolia
ASL
Dudneywood Assisted Living
2600 N. Dudney Road | (870) 234-2800
HHC
Magnolia Home Health Care
103 Hospital Drive | (870) 235-3598
HOS
Encompass Health Hospice
128 N. Washington | (866) 367-9445
PHC
SeniorKare**
Regional services | (501) 246-5450
SNF
Magnolia Healthcare
2642 N. Dudney Road | (870) 234-7000
SNF
The Green House Cottages of Wentworth Place
38 Warnock Springs Road | (870) 234-1361
Malvern
ASL
The Crossing at Malvern
720 N. Walco Lane | (501) 467-8488
PHC
Elite Care
132 W. Second St. | (501) 229-1523
SNF
Arbor Oaks Healthcare & Rehabilitation Center
105 Russellville Road | (501) 332-5251
SNF
Encore Healthcare & Rehabilitation
1820 W. Moline | (501) 337-9581
SNF
Happy Valley Nursing & Rehabilitation
955 Division St. | (501) 467-3339
Mena
ASL
Ouachita Senior Community Center
1341 S. Mena St. | (479) 243-0033
ASL
Peachtree Assisted Living at Mena
1803 Cordie Drive | (479) 394-2600
HHC
Elite Home Health
605 Magnolia Ave. | (479) 394-1812
HHC
Visiting Nurses Agency of Western Arkansas
600 Seventh Street | (870) 385-2361
HOS
Ouachita Regional Hospice
602 DeQueen St. | (479) 394-1134
HOS
Visiting Nurses Agency of Western Arkansas
600 Seventh Street | (870) 385-2361
SNF
Rich Mountain Nursing & Rehabilitation Center
306 Hornbeck Ave. | (479) 394-3511
SNF
The Green House Cottages of Homewood
215 Homewood Circle | (479) 394-3511
Mount Ida
ASL
Montgomery County Assisted Living
147 Senior Drive | (870) 867-2159
SNF
Montgomery County Skilled Nursing Facility
741 South Drive | (870) 867-2156
Murfreesboro
SNF
Murfreesboro Rehab & Nursing Center
110 W. 13th St. | (870) 285-2186
Nashville
SNF
Mine Creek Health & Rehab
1407 N. Main St. | (870) 845-2021
SNF
Nashville Nursing & Rehab
810 N. Eighth St. | (870) 845-4600
Prescott
PHC
Split Rail
1658 U.S. Hwy. 371 | (870) 887-2653
SNF
Hillcrest Care & Rehab
1421 W. Second St. N. | (870) 887-3811
SNF
Prescott Manor Healthcare
700 Manor Road | (870) 455-1086
Russellville
PHC
SeniorKare**
Regional services | (501) 246-5450
Sheridan
HHC
Area Agency on Aging of Southeast Arkansas - Grant County
1525 Hwy. 270 E. | (870) 942-4842
Stamps
SNF
The Waters of Stamps (Homestead Manor Nursing)
826 North St. | (870) 533-4444
Taylor
SNF
Summit Health & Rehab Center
506 N. Long Ave | (870) 694-3781
Texarkana
ASL
Windsor Cottage
4110 Jefferson Ave. | (870) 773-0417
HHC
Elara Caring
4102 Jefferson Ave. | (870) 772-0958
HHC
Elite Home Health
1600 Arkansas Blvd., Suite 106 | (870) 774-5110
HHC
Encompass Home Health of Texarkana
3809 E. Ninth St., Suite 12 | (870) 773-4900
HHC
Kindred at Home
210 N. State Line Ave., Suite 504-A | (870) 330-7796
HOS
Dierksen Memorial Hospice
4613 Parkway Drive, Suite 20 | (870) 773-4353
HOS
Encompass Hospice of Texarkana
3809 E. Ninth St., Suite 12 | (870) 773-4900
HOS
Hospice of Hope
501 E. Sixth Street | (903) 794-4263
HOS
Kindred Hospice I
210 N. State Line Ave., Suite 502 | (870) 330-7796
PHC
Above All
210 N. State Line Ave., Suite 302 | (870) 772-0798
PHC
Kindred At Home
210 N. State Line Ave. | (870) 330-7796
PHC
Opportunities Inc.,
6101 N. State Line Ave. | (903) 791-2270
PHC
SeniorKare**
Regional services | (501) 246-5450
PHC
Superior Senior Care
4425 Jefferson Ave. | (870) 772-8661
PHC
The Crossing at Malvern
1625 E. 42nd St. | (870) 772-0689
SRV
Allcare Pharmacy
113 East St. | (870) 773-6789
SNF
Arkansas Nursing & Rehabilitation Center
2107 Dudley St. | (870) 772-4427
SNF
Bailey Creek Health & Rehab
1621 E. 42nd St. | (870) 774-3581
SNF
Bentley Healthcare
1100 E. 36th St. | (870) 773-7515
Waldron
ASL
Dalton's Place at Waldron
520 W. Second | (479) 637-0061
HHC
Kindred at Home
73 Parker Plaza, Hwy. 71 Byp. | (479) 637-0914
HHC
Visiting Nurses Agency of W. Arkansas
1579 Clyde Hawkins Drive | (479) 637-4795
PHC
Kindred At Home
73 Parker Plaza | (479) 637-0914
SNF
Waldron Nursing Center
1369 W. Sixth St. | (479) 637-3171
---
Permalink